Welcome to the Barakamon Wiki

This wiki is dedicated to everything related to the anime and manga series Barakamon, that anyone can edit. Please help by editing or adding articles and lessening the stubs. We currently have 2,594 edits to 83 articles and 398 images on this wiki.

SPOILER WARNING: Articles contain spoilers for both the anime and manga.

Navigation
Story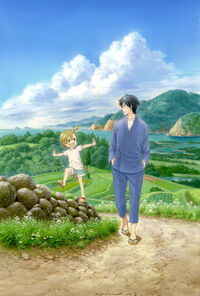 As a punishment for punching a famous Calligrapher, young handsome Calligrapher Handa Seishu is exiled on a small island. As someone who has never lived outside of a city, Handa has to adapt to his new wacky neighbors, like people traveling on a tractor, unwanted visitors who never use the front door, annoying kids using his home as a playground, etc. Can this city guy handle all the crazy hardships? Find out in this wacky island comedy full of innocence and laughter!!!
Affiliations
Want to become an affiliate of this wikia? Please contact me.
Wiki Poll
Featured Image
Featured Article
Seishuu Handa is a 23-year-old calligrapher. He goes to the Goto Islands in Nagasaki to focus more on his calligraphy and to take time to understand himself and find his passion.